Calling to the "Mother"land
by Kenneth Rayman on
February 22, 2019
Having been to Europe three time before, every time, my point of entry into Europe was Amsterdam. On the third time, I felt like I was missing something as I landed in what looked liked a Dutch farm yet again, while seeing the city in the distance and passing the electric wind turbines in the Atlantic ocean near the coast. I had now been there 3 times, yet all I did was run from gate to gate at entry or sit for a few hours and relax in the concourse after two weeks of nonstop travel in other countries.
My maternal lineage is Dutch and anytime I told someone my mother's maiden name of Vanderwall, the remark was "yep, you're Dutch," but that was the extent of my knowledge of the Netherlands as a country. Yet every time I went to Europe I felt like was missing what was right outside that airport entrance. I told people, as I returned from Mindvalley University in Tallinn, that one day I would step out of Schipol International Airport rather than just pass through; there was now a burning desire to see what was beyond those walls. I even stopped myself from buying a souvenir coffee cup in the gift shop because "that would be cheating" if I bought one without seeing the country itself.
I wasn't going to let another trip go by without yielding to that call. I was super excited when I touched down in Amsterdam for my trip to Poland because I knew I'd be back soon to "step out of Schipol." After two weeks in Poland, I was beat yet again from the constant go but as I landed for my 5 day reprieve, my energy rebounded. I felt as if I had just landed back home in Seattle. Every new part of the airport out of the concourse felt like a warm hug was grasping me and I hadn't even "stepped out" yet. Granted it was 6pm and I'd been up since 4am in Wroclaw, Poland but it felt like, as in Oslo and St. Petersburg, as if I was at home from Moment 1.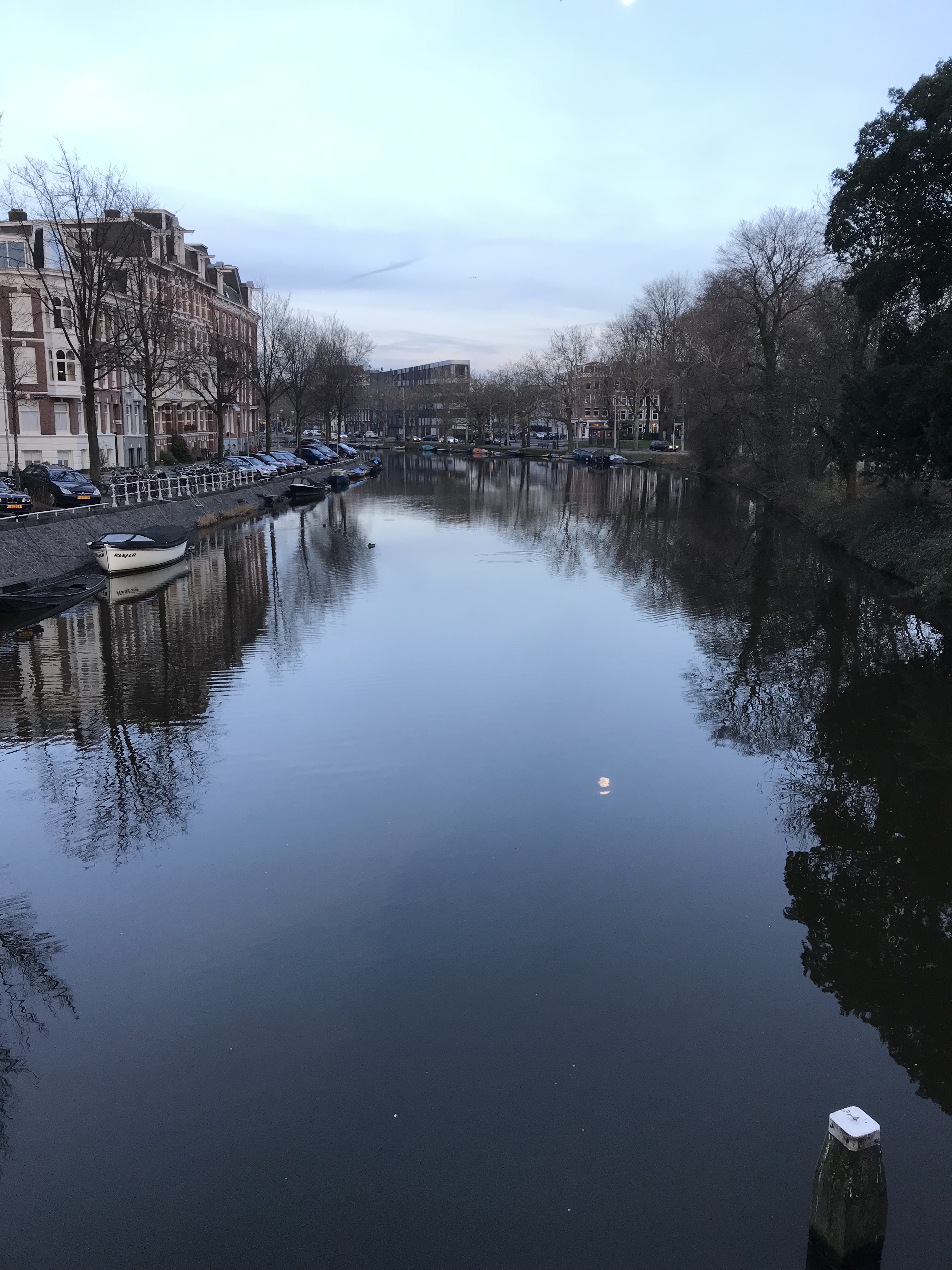 The next morning I grabbed my map and took off in whatever direction Amsterdam wanted to take me. While it was still cold, it wasn't as biting as Poland was, and the air was amazingly fresh. I can only describe the leisurely walk after 2 weeks of structured travel, with the prior evening's welcoming aura, as a "walking outside right after getting a haircut" feeling of refresh. My time in Amsterdam would allow me to discover more about Dutch history and their place in the colonial era, which I hadn't studied since high school, and to satisfy my desires through easy hikes to various museums or landmarks. Although, it was difficult to keep track of how many canals I crossed when using the map while trying not to look totally like a tourist. For example, when walking to the Rijksmuseum of Art and History, I crossed three different canal islands on accident when I only needed to cross two. My canal problem was laughed at by the two Uber drivers I chose to use after staying out past dusk. As they weaved around the streets, over the canal bridges, and around bikers, they laughed, "Yea, these can get confusing." While walking I also had to be aware of which part of the sidewalk I was on. NOT WHICH SIDE but which part as you may walk in front of bikers who have a dedicated traffic lane for themselves and they are not shy at ringing their bell or yelling at you. I quickly learned that when you cross the street you have to stop twice: Stop once for cars, cross, stop again, check the bike lane in both directions, cross the bike lane, continue.
I also felt right at home with the hotel's recommendations for dinners at a traditional Dutch restaurant, Haesje Claes and Restaurant Greetje. Both times I sat in a very home-y atmosphere and saw china-ware for decoration that was reminiscent of my mother's antique room in our home. Of course, I've noticed in Europe the polite thing to do, with ANY restaurant, is to always make dinner reservations and I'm glad I did, as both restaurants were empty when I sat down, but were packed by the time I got my dinner. Luckily each website had it's own Google reservation link so it was no problem getting one. Both dinners of Rack of Lamb and Rabbit were fantastic, but my favorite of both dinners was the Dutch Pea Soup, at Haesje Claes, that tasted like it had just come from Granny's kitchen on the farm. The one thing I wasn't prepared for was the Dutch cheese sampler. I was told that I had to try to Dutch cheese as a tourist, so I ordered it at Restaurant Greetje. Being an American used to simple branded types, I'm only used to what I find in the grocery store. While the cheeses were very good from a flavor point of view, I was unprepared for the way they would make you mouth super dry and, having ran out of water, the wine pairing didn't do the trick. I was told to eat the cheeses a certain way, as well, going from left to right with the cheeses getting sharper and dryer, with the last being a rare Dutch blue cheese that would almost knock me out of the chair with it's strength. I was certainly glad I was told how to eat them after that.
To discover the narrative of this little mini trip I visited the Verzetsmuseum, or Resistance Museum of WW2, along with the Rijksmuseum and the Tropen Museum. While the Verzetsmuseum answered my questions similar to what took me to Oslo, the Tropen Museum raised questions about humanity itself, highlighting it's history and connection through all sorts of demographics, and I knew it was perfect for my blog to inspire ideas and then write on the museum itself. The Verzetsmuseum raised an interesting question about the nature of resistance and I was amazed at the stark contrasts in what I learned between the Netherlands and Norway and Poland's museums. I got plenty of photos in the Tropen Museum and the Rijksmuseum, but none in the Verzetsmuseum. The setup of it was not good for photos as nothing really catches the eye but instead tells a long continuous story as you walk through the collection of artifacts, stories, and photos. It was worth the visit regardless and, just like the other two, will have it's own article.
By the end, I didn't want to leave, just as I hadn't in Oslo and St. Petersburg. As a spiritual person I wondered if I was being pulled there by my ancestors or if it was just the fact that I constantly moved through the city, never stopping to admire it. And strangely a few days after I got back, a podcast I listen to had a Dutch athlete on it, so the timing was even more eerie. It was clear that I had found yet another place for my heart to call home, for the blood pumping through is, in fact, Dutch.
back
MORE FROM THE NETHERLANDS